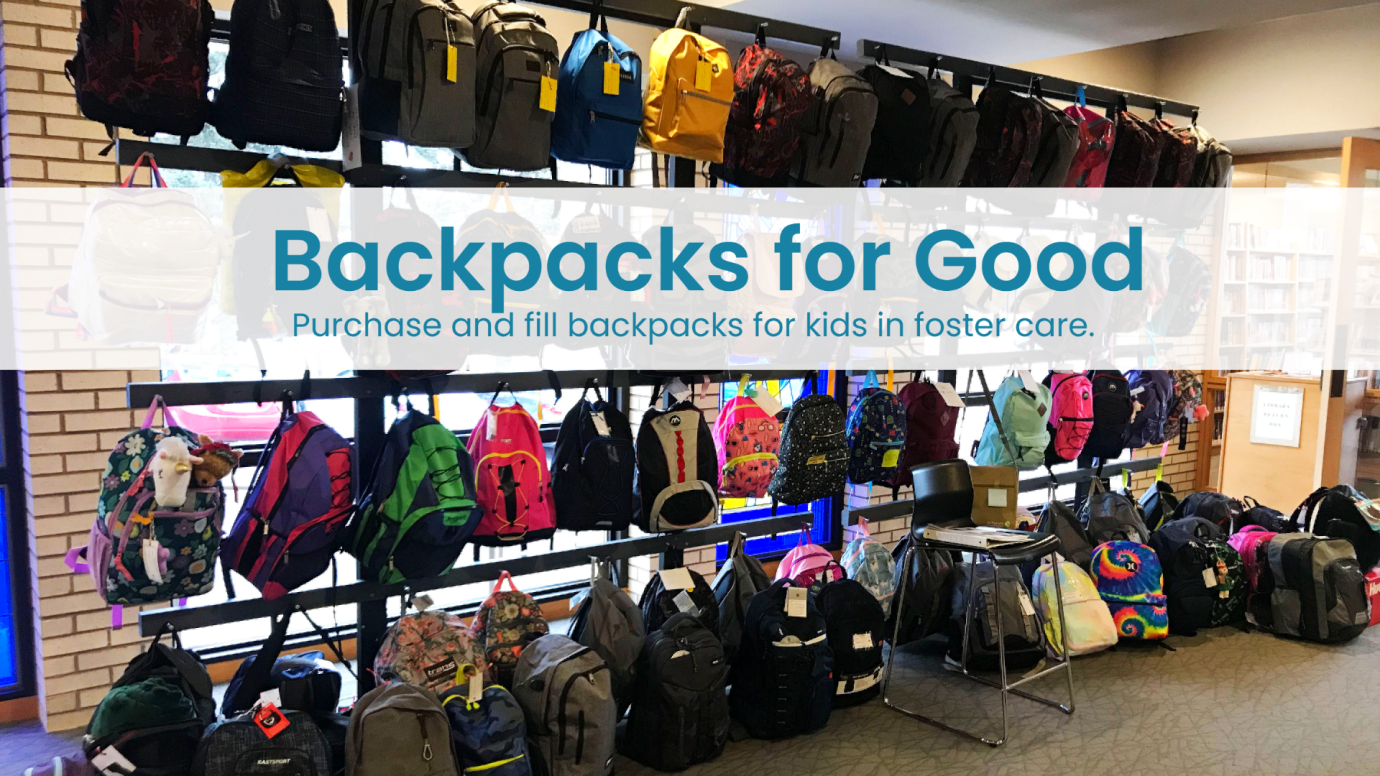 December 1, 2022 9:00 am
December 1, 2022
Contact:
God loves and cares about foster kids.
When kids enter into foster care, they come with very little notice and very few, if any, belongings. Something as small as a backpack of essentials and comfort items can provide HOPE to these children during a difficult time.
This December, we are once again partnering with Together for Good to create backpacks for these children and ease their transition into the foster care system. Backpacks and contents are purchased and packed by individuals, families, small groups or with a few friends. Then they're delivered to any of our campuses, hung up on lobby racks, and a team of servants from WLC will take loads of backpacks to Together for Good offices in St. Paul.
What should I pack in the backpack?
Pick up an information flyer with all the details, including what to put in the backpacks, at the Connection Center on all campuses or hit the button below:

Drop off info, December 1-18:
We have lots of options and availability for you to drop off backpacks:
Sunday mornings, December 4, 11, & 18 between 8-11am at all three campuses (Oak Hill, Valley Creek, Wakota Ridge)

Monday through Friday 9am-9pm, Valley Creek Campus

Wednesdays 9am-2pm, Oak Hill Campus
Thursdays 9am-2pm, Wakota Ridge Campus
Important notes:
Please drop the backpacks on the racks in the lobby.
We will not have drop off available on Saturdays.
Please do not add seasonal/Holiday items to your backpack as they will be handed out throughout the year to children in need.
Contact Brad Miller with questions.

Can you help deliver backpacks?
We're looking for youth families, small groups, and others to deliver backpacks from our campuses to the area collection site on Sundays December 4, 11, & 18. WLCYouth is also looking for a few people who can serve as lobby hosts at the Valley Creek campus. If you're able to help, hit the button below!